Is all start with a hot bowl of water like it can't stop burning. As i said so, nothing more much to care than how we turn ourself to.. i have prepared a very special lovely dinner for ur bday that coming soon on 2 December as well is all some special things coming too. i won't let u feel the hardness with me,because the reason im choosing u is, the way u caring me and the lovely smile that u given to me,that nobody can gave me as only u can. I only make u my only and not making me n u lonely. Every day n night i been waiting u to go studies and back from studies safely. All i can do is to gave u a better life for this moment as im still beside you, its only for u n it last forever, even u r nt beside me someday i will always remember the day u spend with me. Can i have a words to u... do u love me ? as how i love u. Will you marry me ?
all this a my question towards u. A special moment that hard to makes me forgottable is, u watched the world cup finals with me, even we cant ended the match fully but we done the 1st part of it. i missed the world cup moment n i hope it never ends, n repeating the second back to 1second for jumping every second.

Baby Baby Wai Kuan, i'm Eddie here seriously love you deeply with my loyalty.



THE 3 words thats always in my mind.

and some edition poem for u : )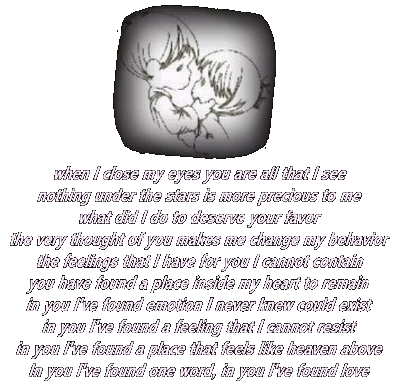 day after day im wating for you to be mine most special baby <3

i love you